AEBETANCOURT IS PROUD TO ANNOUNCE OUR PARTNERSHIP WITH BECOME UNMISTAKABLE™️
AEBetancourt was designed to partner with organizations to find, select, and retain top-tier talent. When implementing uMap™️ in our own organization, it was easy to see the value in offering this platform to our clients as well. We are very proud to announce our partnership with Become Unmistakable and the uMap™️ system and share this incredible platform with organizations across the nation.
Click the image below to download a sample uMap™️ and keep reading to learn more!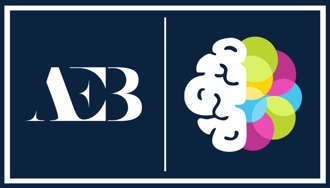 What is a uMap™️?
Using cognitive science, uMap™️ takes a unique approach to performance management. Become Unmistakable and the uMap™️ platform offer software and training that help organizations boost engagement, inspire authentic leadership, and honor the human in everyone.

The right-brain approach puts people first in radical ways to help connect managers and their teams to reduce turnover, develop talent, engage with their teams, and maximize the employee experience.
Now that virtual is our reality, it is more important than ever to empower our leaders and team members to connect and share their experiences and goals. The uMap™️ allows organizations to bring out the best in people at work and become the organization that people want to work for.
Using the uMap™️ and Thrive365™️ systems has transformed our culture and performance management program at AEBetancourt. Knowing your team members for who they are, not what they do, has been instrumental in building a stronger, more engaged, and more goal-focused team. This tool was especially helpful in keeping our connections strong during our transition to remote work due to COVID-19.

- Art Betancourt, SPHR, SHRM-SCP | CEO, AEBetancourt
---
Using the uMap™️ tool allows organizations to:
FOCUS ENGAGEMENT
• Aggregate personal goals by team, department, or across the organization to identify the top personal priorities and interests of your people.
• Invest in team engagement events that matter most to them.
PERSONALIZE TRAINING & DEVELOPMENT
• Aggregate training priorities authored by your team.
• Prioritize training needs to invest efficiently while honoring your people.
CONDUCT SAFE PERFORMANCE DISCUSSIONS
• Replace annual reviews with quarterly conversations through Thrive365™.
• Balance personal development with accountability measures to support the whole person.
POSITION TEAM MEMBERS FOR SUCCESS(ION)
• Combine performance, professional goals, and development plans to position people for their future — and yours.
• Identify team members that align with your organizational values to identify your successors.
REINFORCE AND FURTHER YOUR DIVERSITY, EQUITY, & INCLUSION INITIATIVES
• uMap™️ gives teams a chance to celebrate each unique person in an organization. It's a way to highlight what makes them unique, their experiences, what matters to them, and who they aspire to be.
• uMap™ is a great tool for helping to create belonging. It's a catalyst for helping people connect, and find shared interests, backgrounds, hobbies, goals, etc. This starts right away with onboarding, and bringing new people into your team in a meaningful way – more than just their new hire paperwork, an office tour, or lunch out. Even for existing team members, there's newer, deeper connections to be made.
Click the sample uMap™️ below to download your copy and explore what the uMap™️ has to offer: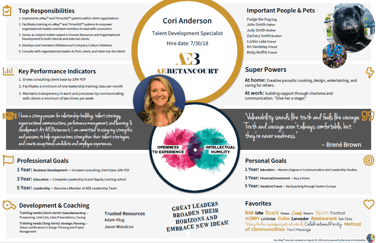 Click here to schedule time to speak with one of our Certified uMap™ Implementers to walk through the system and discover how you can transform your organization by using uMap™.