We have over 100 years of combined recruiting experience at our office. Over the years we have also heard just about every complaint and frustration businesses have had with recruitment agencies. As much as these viewpoints make us cringe, we also know they come as a result of poor experiences. The adage that it only takes a couple of bad situations to ruin things for everyone else comes to mind.
Some industries have a great public perception with high levels of trust. Among the highest ranking are the farming, grocery, and restaurant industries. However, on the other end of the spectrum are industries notorious for compounding feelings of doubt and raising questions of uncertainty at every turn. In Gallup's 2020 Business and Industry Sector Ratings survey, only three industries had a net negative score: the sports industry, pharmaceutical industry, and very last was the federal government.
While our industry has not fallen to such depths, recruitment agencies continue to maintain an approval rating that places us on par with the cable companies. The good news is that there are many recruitment agencies that provide reputable services. Even more good news is that the poor experiences of others can guide you toward an incredibly positive interaction with your recruitment agency when you understand what to look for.
In this post, we'll explain why some agencies have failed to deliver the best service and experience for their clients and how AEBetancourt is structured to completely disrupt and change those stereotypical perceptions.
Why Recruitment Agencies Receive So Many Complaints
Before we dive in, it's important to clarify the source of the common complaints we are addressing here. Since recruitment agencies work with both companies and candidates, problems can arise in either relationship. At our firm, we partner with client companies to help them find their perfect-fit hires. So the common criticisms listed below are from the perspective of the organizations rather than candidates who have had poor experiences with other recruitment agencies. When you view these criticisms as a whole, four themes emerge.
1. Transparency of Recruitment Agencies
Any company that outsources services wants to know what they are paying for. Further, they don't want to wait until the very end to see results. When details seem vague, progress is uncertain, and communication is thin, problems are going to happen.
This leaves hiring managers and HR professionals to wonder what is going on and the formation of poor industry perceptions to begin. It is exactly due to a lack of transparency that hiring companies have complained that recruitment firms:
Do not share candidate information with clients

Do not share information internally with their colleagues

Are inconsistent with their process

Work against us (the hiring company), rather than acting as an extension of our business
Client companies should never be expected to work with a vendor whose process and progress seemingly happens in a black hole.
2. Dedicated Recruitment Resources
We tend to stick with certain services because the expectations are clear. We expect that when we go to the salon our preferred and regular stylist will be the one doing our hair. We return to the same mechanic because their shop has experience with our brand of car, and the mechanic knows our car.
However, when the experience is ever-changing, the expectation becomes one of chaos or a haphazard affair at best. When hiring companies fall victim to these experiences, you will often hear these frustrations with a recruitment agency:
They are just a bunch of spammers with no real process to what they do.

They are inexperienced in the hiring process.

They don't know our business (or worse) don't take the time to understand our business.

All recruitment firms have high turnover, so the process and understanding have to start over every time.

Recruitment agencies have a very narrow focus. You won't get relevant, current, or useful market research.
Hiring companies deserve to work with a recruitment firm focused on providing complete service, is dedicated to each role they are filling, and acts as an extension of the hiring company.
3. Outcomes from Recruitment Agencies
This area causes the most angst among hiring companies, and for justifiable reasons. Why would anyone pay for services that didn't provide the best possible results? Look a little closer and you will notice that every complaint also stems from a lack of clear, defined repeatable processes.
Hiring companies that did not achieve the results they expected from their recruitment agencies have typically voiced one or more of the following complaints:
They don't take the time "upfront" to get to know us and our real needs, so they don't seem to know what they are working towards.

Their process is just to shop out candidates to as many companies as possible.

They seem to duplicate our effort and are unwilling to utilize data on candidates that we have already reviewed or interviewed.

They don't know enough about the process or our industry to act as true consultants. Rather they just "show up" with someone they think we should hire, regardless of compensation.

They never reach out to us to find out if their recommended new hire even worked out.
Before companies agree to work with a recruitment agency, they need to know what the agency's recruitment process is from onboarding to daily progress to consistent reporting. Further, this needs to remain consistent until the desired hires are made, acting as a true consultative partner along the way.
4. Recruitment Agency Costs
Hiring new employees is an expensive endeavor for any organization. While necessary to support and grow a business, organizations must get this right. Just think about the cost of a bad hire and you understand our point. This can lead to complaints that are really myths and misconceptions about the recruiting industry.
If you want to work with a reputable recruitment firm, you will be required to have a contingency or retainer agreement.

Their cost is greater than what we would spend managing the process in-house.

They only help with entry-level positions, not experienced or executive-level roles, so the cost isn't justifiable.
When the recruitment process doesn't go as planned or the relationship with a recruitment agency is soured, the first impact to be felt is the cost paid for these services. And this is when the more serious problems are verbalized.
They are not able to account for how they spend their time and our money.

They disrupt the hiring process and the negotiation process by fluffing compensations to pad their commissions.
Hiring companies should never be required to sign a contingency agreement. Retainers aren't necessary to get quality results and only benefit the agency. However, recruitment agencies need to be transparent in their fees and how they are calculated. When agencies follow this advice, hiring companies understand how they can manage their hiring costs by outsourcing their talent recruitment process.
How AEBetancourt is Different
AEBetancourt helps our clients implement a comprehensive Human Capital solution to find, select, train, and motivate talent. We are dedicated to increasing our clients' profitability, by using the best resources to match our clients' needs with thorough, transparent, and honest work.
This isn't just some nice sounding, carefully crafted marketing sentiment though. Our recruitment agency was founded out of a clear need to change how recruitment agencies were structured and the overall process of talent acquisition. This drive to change the status quo became the guiding principles behind our process and business philosophy.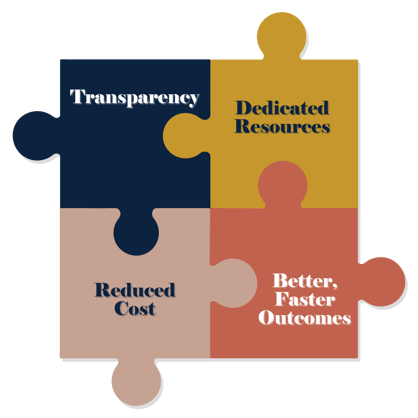 The four reoccurring themes in client complaints are the essential core elements of our business:
Transparency

Dedicated resources

Better, faster outcomes

Reduced cost
We provide ​​our clients with access to real-time reports detailing all the work performed for their search, including unlimited access to all of the candidates in the pipeline. Each client is also paired with a highly experienced Talent Development Specialist dedicating their resources on a daily and weekly basis to meet their specific hiring needs.
Our talent acquisition process was built to disrupt the recruiting industry as we know it. This revolutionary model brings the highest quality candidates in record time. Partnering with AEBetancourt means you gain a professional team dedicated to exceeding expectations in both quality and time to completion while saving up to 50% on costs.
What questions and concerns do you have about working with recruitment agencies? We would love the opportunity to provide you with clear answers to all your questions.