Remaining Engaged as Our New Normal Takes Shape
In March, I wrote a blog post titled, "Engaging With Your New Remote Workforce" with ideas for leaders and employers to motivate and connect with their employees while working remotely. Many organizations with no remote work policies or practices have been propelled into completely remote environments. For those employees who aren't used to working remotely, cabin fever may be setting in and people are feeling the strain. With that in mind, one of the things we should be relying on right now is connection.
With infinite Zoom calls now under our belts, we find that we must continue to evolve our strategies for remaining connected as our new normal takes shape. Below, we share how our strategy for engaging and motivating our employees has evolved over the last six weeks.
Take the Opportunity to Connect with the Whole Employee:
As humans, we crave connection -- and as leaders, we should look for opportunities to connect. I have never loved the term "Work/Life Balance" because it seems to insinuate that those are compartmentalized parts of life that should remain separate. I don't mean to suggest that we should always be working or available to answer; instead, I think many employees want to show up to work as their whole, authentic selves.
Being quarantined has given us all a new outlook on how we work, and the idea of separating our work and home lives has somewhat gone out the window. In the past, I would not dream of explaining to someone in a business meeting that my dog *might* bark or make strange sounds – now it is commonplace. Most of us are at home with spouses, children, or pets, and we have interruptions that are unavoidable because of this. Embrace them as ways to connect!
Take the interruptions as a way to discover more about your team. Babies, dogs, and even a bearded dragon (see photo below) regularly join our meetings now. Spouses, significant others, and roommates pop into our meetings to say hello. We show off our workspaces, work from home (WFH) outfits, and meals. After working together for years, it's amazing how much we have learned about each other in only six weeks.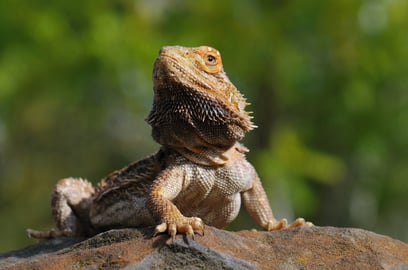 The benefits of knowing your employee as their whole self will last long after the quarantine is over. What have you learned about your teams?
Make It Fun:
In my previous post, I mentioned the importance of using video during meetings to feel more connected. Having regular company-wide check-ins has really helped our team to feel less isolated. We are an organization of extroverts, and as our cabin fever increases, we must find ways to mix up our WFH routines and make them more fun.
For our video calls, our team has chosen to use Zoom. If you are unfamiliar, Zoom has a feature that allows users to upload any image or video to use for a virtual background. This trend has swept the world and gone viral for good reason – it's hilarious and fun! If you don't know how to turn on virtual backgrounds, click here.
Our team has really flexed their creative muscles for our morning meetings and weekly happy hours. This has also allowed us to get more of a glimpse into personalities! See below for ideas to mix it up:
Ideas for Virtual Backgrounds:

Photos of Each Other
Favorite Characters like Michael Scott or Leslie Knope's Offices
Vacation Spots
The Iron Throne
30 Cats in the Living Room (a personal favorite)
Each other's workspaces (a prank for our boss)
While we love that sweatpants are making such a comeback, we also want to have a reason to get dressed in the morning. Having a reason to get creative and put on a fun outfit can help boost employees' moods and productivity in addition to making your video calls photo worthy.
Some excellent Zoom Virtual Backgrounds can be found online at Good Housekeeping, Tech Republic, and CBS.
Themed Meetings:

Vacation theme
Business on the top, Party on the Bottom (Ex. Blazers and Swim Trunks)
Fashion Show
Holiday Dress Up Party (Iconic Holiday Figures)
Pizza Party
Here is our team playing dress up during a Zoom Happy Hour: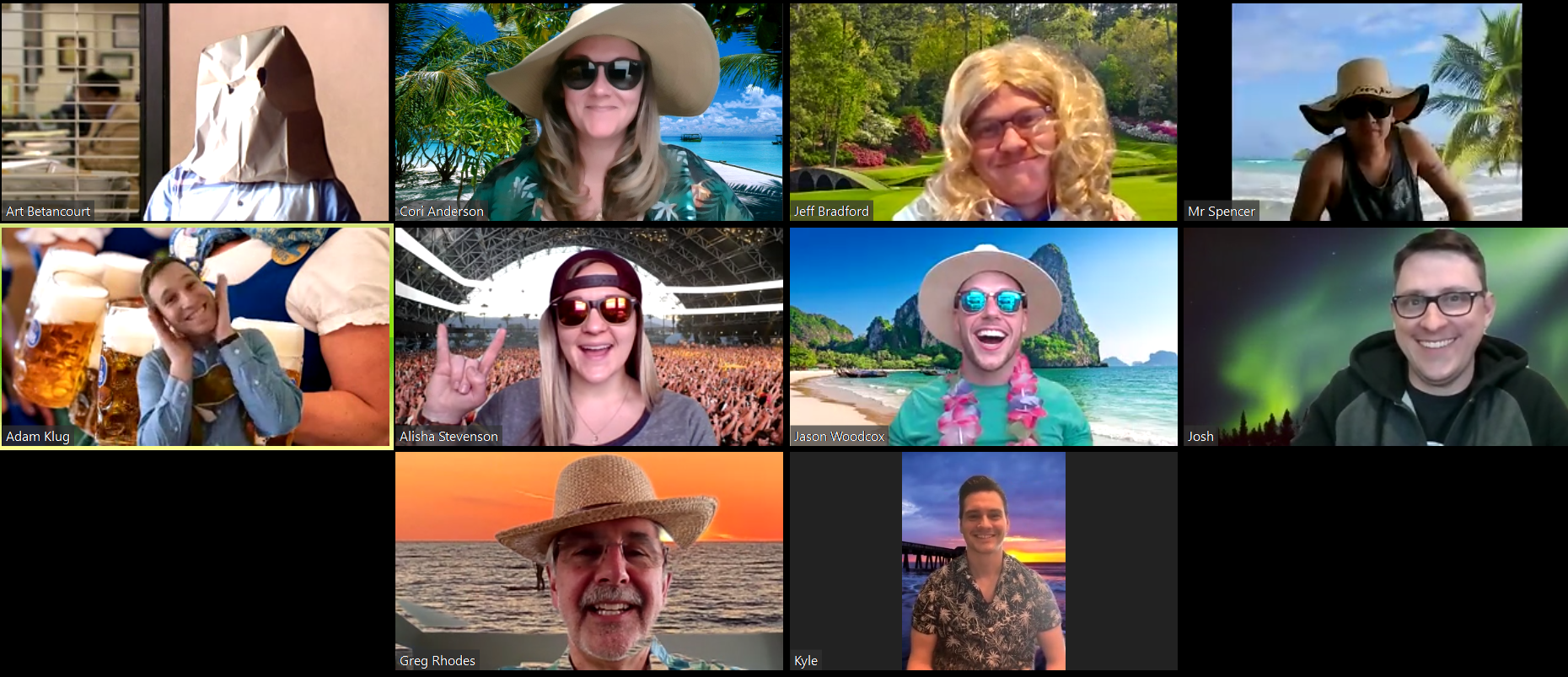 Maintain Your Culture and Values:
We have heard for a long time that company culture is the most important element of maintaining a positive and engaged workforce. A 2017 study by Korn Ferry (HR Advisory Firm based in Los Angeles) found that candidates are increasingly considering a prospective employer's organizational culture in determining where they want to work.
According to the 1100 participants surveyed, the number one reason that candidates choose one position over another today is organizational culture. This means culture is repeatedly chosen over salary, benefits, title, etc – and it's important for leaders to note that this is a complete change from what was found 7 years prior.
One of the most important elements of your culture is your values, and amid a global crisis, maintaining these values becomes paramount. Leaders are the driving force of culture and organizational values. Organizations are facing financial crises, reduction in workforce, and seemingly infinite uncertainty – but employees will remember your leadership during this time.
Our leader, Art Betancourt, showed his commitment to his own values (as well as our organizational values) earlier this month when faced with a tough decision. Our team is usually given Good Friday off work as a paid holiday for the Easter Weekend. As we were faced with the impact of the crisis on our business, our team was unsure if we would still take the day off of work.
Art addressed us in our morning meeting that week and stated that although we needed to work, this situation does not change the reason that he'd traditionally given the day off. His choice not to allow the crisis to change his values was inspiring to all of us.
They say that integrity is what you do when no one is watching; however, for leaders, I think that it is also what you do when faced with extraordinary circumstances (like those we are in).
We've also inspired our team by sharing a "rally cry" to get us through the tough times. You may have seen Art's LinkedIn post with the below image. While most people remember the line from the iconic speech by Franklin D. Roosevelt, "we have nothing to fear but fear itself", Art recognized another line's importance in the famous inaugural address. This mantra has motivated us to "convert retreat into advance" and come out on the other side of the crisis even stronger than before.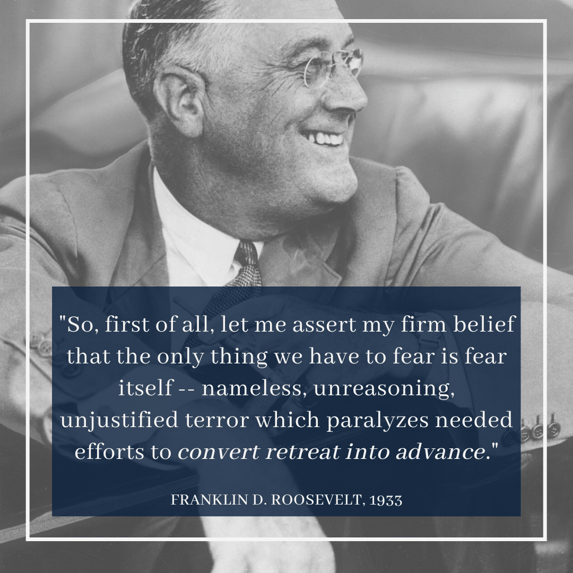 How can your organization uphold their values during this time?
In closing, our workplaces will be forever-changed by the pandemic, but in a positive way. We have seen such strides in our team's communication, motivation, and commitment by taking an active approach to building stronger connections.
For more information regarding how to motivate your employees, please don't hesitate to reach out to myself or our team. We'd love to schedule time to talk about your processes and how you can come back from COVID-19's havoc even stronger.