Strategic Talent Acquisition in the Current National Climate
On April 24, 2020, we published the below blog post regarding the talent market amid COVID-19. Five weeks later, the information is as timely as it's ever been, and we're seeing further evidence that now is the time to be engaging with talent and building a candidate pipeline.
Following our blog post, Harvard Business Review posted an excellent article mirroring what our team has seen, but on a much larger scale. The market is flooded with incredible candidates that are now looking for new employment, which is excellent news for those organizations that are looking for talent.
In the article, Claudio Fernández-Aráoz writes, "The pool of available talent is suddenly both changing and expanding, and visionary leaders can make the most of it, preparing the ground for post-crisis recovery and growth. As management guru Jim Collins has shown us, making the leap from good to great starts with getting the right people on the bus."
According to LinkedIn's Chief Economist, Karin Kimbrough, hiring is stabilizing globally, and workers' confidence is rising. Small businesses have seen a growing level of confidence as the pandemic quarantine measures are lifted:
"Small businesses are also driving optimism in the market. Confidence is trending up among Americans who work for small- and medium-sized businesses, whereas we're seeing confidence among workers in Enterprise & Mid-Market companies trending down. This follows across all regions of the country, though the difference is less pronounced in the West." - Karin Kimbrough
Leading into June, May's numbers look even more promising for the US job market, with 2.5 million jobs added, and a 1.4% drop in the unemployment rate. While there is still a long road ahead, companies that are able should take advantage of the large talent pool during this time.
Read below for more data on what our team has been seeing since the beginning of the pandemic crisis and how you can adjust your talent strategy now to come out stronger than ever.
It was only a short time ago that the war for talent was the fiercest it's been in our lifetimes. Almost overnight, the US Unemployment Claims due to COVID-19 have reached 26 million people and the job gains since the 2008 economic crisis have evaporated. This has left a wealth of skilled high-level talent, currently employed and unemployed, open to discussing new career opportunities.
Whether the economic recovery is V-shaped or U-shaped, leaders that employ a strategic talent acquisition approach now will be able to thrive during the rebound. They will also hedge against finding themselves in same talent desert they were in just a short time ago.
You might be wondering: How could someone recruit new employees during the COVID-19 crisis? Why would anyone be looking for a new job right now?
Based on the data we've collected, whether your company can hire immediately, or you are waiting this out, now is the time to engage with talented individuals that will help drive your business forward.
The most significant indicator we have seen to support this is that our team has seen a 50% increase in the number of candidates willing to engage in interviews for a new opportunity. Our Talent Acquisition Consultants began to see this increase the week of March 17th and we've seen this number remain steady ever since.
Why?
When speaking with candidates, one of our first questions is always some variation of, "Why did you decide to take my call today?" Throughout the COVID-19 quarantine, we've repeatedly heard the same answers:
"I don't like how my current company handled their COVID-19 response." i.e. Reactive VS Proactive, failure to communicate, acting as though it's business as usual, etc.
"I'm working from home, so it's easier to work on my job search."
"My company furloughed me, so I'm not feeling great about the future there."
"My company laid me off, so I am actively looking."
"I've had a lot more time (during quarantine) to reflect on my career and I'm ready to take the next step."
Increase in Talent Pipelines:
According to the Society of HR Management (SHRM), "A global survey by HR consulting firm Mercer shows that as of early April, 68 percent of companies had closed offices amid the pandemic, and 63 percent had instituted some type of hiring freeze. Less than 6 percent of companies had laid off employees, but, as of April 13, more than 26 million people had filed unemployment claims in the U.S" (Source: SHRM.org).
We have taken a deeper dive into these numbers to discover where we might find excellent talent within these numbers. LinkedIn has a feature where members can mark themselves as Open to New Opportunities. This status can only be viewed by organizations that purchase a LinkedIn Recruiter license and signifies that they are open to conversation about a career move. Using this tool, we are able to pull useful information about the job market including what role types and industries are seeing the most movement.
Below are the top 5 job types with LinkedIn Members that are "Open to New Opportunities":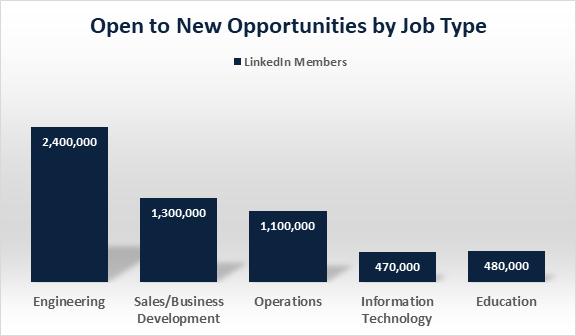 This data shows that, even for positions that are considered the most difficult to place, there is a wealth of talent on the market looking for a new career.
Many of these people are also currently employed, or "Passive Candidates", which means they aren't applying for open roles, but they might talk to hear what's out there. This is where the advantage of strategic passive candidate sourcing really stands out, as you can find some excellent talent that is not applying for your roles.
A global pandemic may not seem like the time most companies would be looking to add to their teams; however, it's an excellent time to engage with new candidates and build the talent pipeline you have always dreamed of having. Design your new strategic talent acquisition strategy with a focus on the future and embracing our new normal.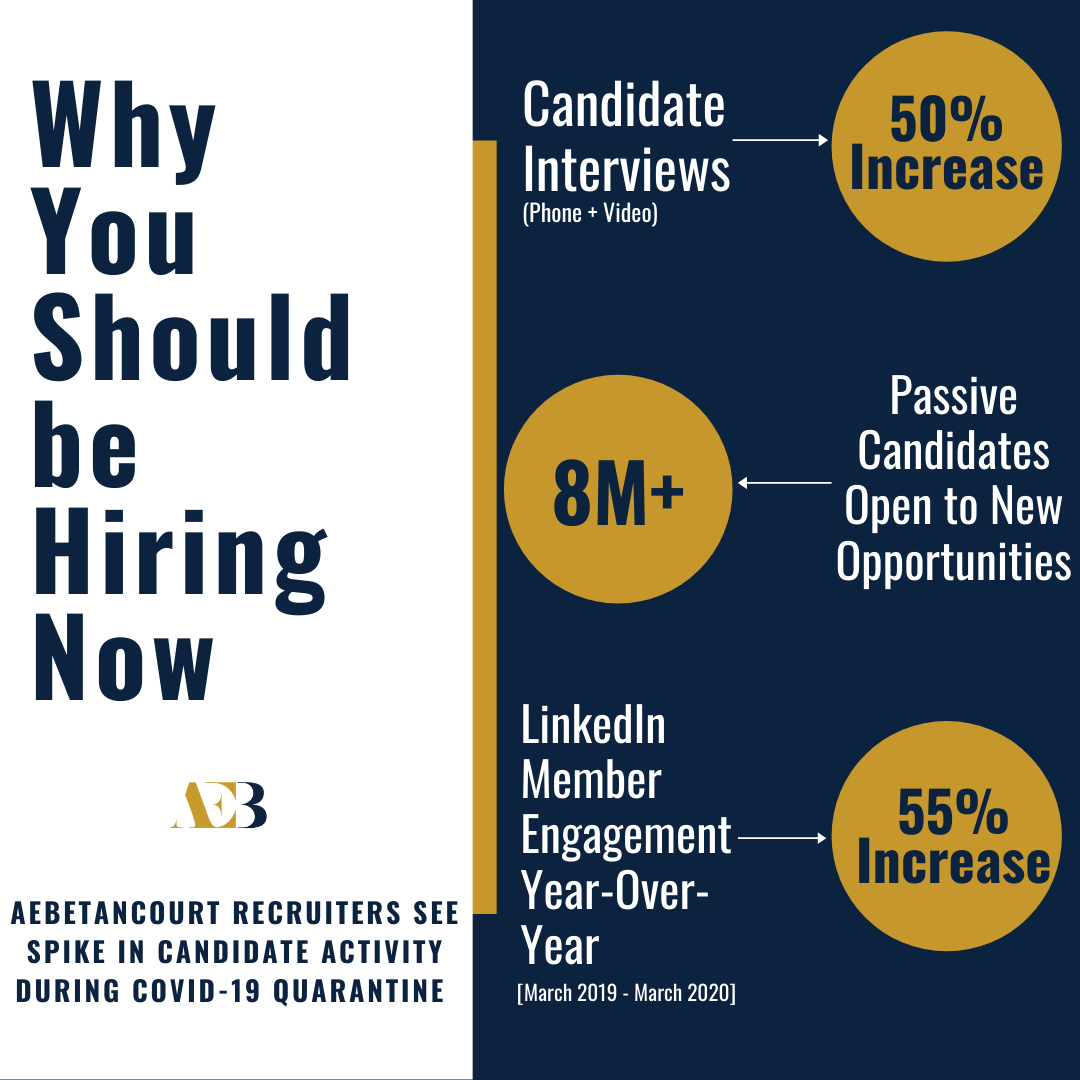 If you have questions regarding your talent strategy or hiring during this time, see below to schedule a free Talent Acquisition consultation with our CEO, Art Betancourt, by clicking the link below.