Just because more people are open to new career opportunities now does not mean they are actively looking for them or even immediately applying. Back in 2013, LinkedIn shared that as many as seventy-five percent of job candidates were only passively considering a career change.
Sadly, this statistic appears to be changing. Yet, if your recruitment strategies are only focused on active candidates, you are missing out on a huge opportunity to connect with receptive top-performers in your industry. Think of this another way: limiting your recruitment efforts to only active candidates means you are needlessly shrinking the potential size of your candidate pool.
Fewer candidates to consider means a substantially smaller set of available skill sets and that you may need to relax your qualification standards. And that means your next top-performing perfect-fit hire could be just out of reach simply because they didn't know about your amazing opportunity. Too many organizations approach hiring new talent without a specific strategy in mind. Hope is not a strategy.
In this article, we'll explain the value of developing a targeted recruitment strategy for both active and passive candidates, the sometimes subtle differences between these groups, and effective recruitment strategies to help you expand your candidate pool.
Why You Need a Targeted Recruitment Strategy
The difference between high and low-performing employees is greater than you think
Hiring and developing employees is one of the greatest value drivers of performance and yet it is often the most overlooked. The reasons likely vary but may be as simple as too many organizations simply aren't aware of the economic impacts and the actual variance at play in their employee performance differential.
A performance differential is the quantified percentage difference in output between a low, average, and top-performing hire in the same position. Roles like operational support typically have a 32% differential between the lowest and highest performers, whereas sales roles are historically much higher at a 48% differential.
For example, If the average base salary for a sales position is $80,000, multiplying it by the differential of 48% would equal $38,400. (Note, this can be calculated using salary or revenue value for your organization.)
A poor-performer could be costing your business $38,400 annually in lost productivity compared to an average counterpart. However, on the other side of this example are top-performers generating $38,400 more in productivity output than average, nearly $77,000 more than your lowest performers.
Keep in mind, this is only taking performance value into account. A bad hiring decision could cost you even more in related business costs. A targeted recruitment strategy can help you source more of the top-performers you want.
Finding top-performers requires a larger talent pool than many organizations plan for
In 1998, Professors Frank Schmidt from the University of Iowa and John Hunter from Michigan State University painstakingly analyzed 85 years of data on search strategies and hiring techniques. The findings not only provided insight into interview methods that greatly increased the ability to select the desired top performers, but also the predictability in hiring increased as the size of the candidate pool increased.
A larger pool of candidates provides a wider range of skills and allows hiring companies to have a tighter qualification and selection process.
Think for a moment about what Harvard University, Disney, and the NFL have in common. There may be a few things, but for our purposes here, they all have very stringent selection processes where only a few of the many that apply get in.
The high volume of applications these organizations receive is what allows them to maintain such selective recruitment strategies.
You most likely won't have the volume of applications that Harvard, Disney, or the NFL receive and your selection process most likely is a bit more relaxed. But suppose just half of the applications you receive are actually viable for further consideration.
Would you prefer to evaluate 50 candidates from a pool of 100 applications, or just 5 candidates from a pool of 10 applications to find your next top-performer?
The Difference Between Active and Passive Search Strategies
Before we jump into the active and passive search strategies, it is crucial to understand the difference between active and passive candidates.
Active candidates
An active candidate is an individual who is actively searching for new job opportunities and is readily available to join once they are approached. These candidates are already searching and applying for jobs.
These applicants are often managed through an in-house recruitment team, applicant tracking system (ATS), or agency. The key indicators of active candidates include:
The ability to be found through job fairs, online presence, and job ads

Candidates that are typically more responsive to blind or cold outreach messages from recruiters

Individuals who are either employed or unemployed

They have applied through an application form or short form
Passive candidates
A passive candidate is an individual who is currently employed but is not actively looking for another job. However, this doesn't mean they are not interested in newer and better opportunities.
These candidates don't apply organically and are not immediately available. Some key indicators of passive candidates include:
A requirement of recruiters to be more intentional in their efforts to find and then persuade them to pursue an opportunity

They can be sourced via targeted online searches, strategically place ads, or referrals

Individuals who are usually employed

Talented people who are open to hearing about new opportunities but are not actively looking
Active vs. passive recruitment strategies
Creating recruitment strategies for both active and passive candidates is crucial to expand your talent pool and ensure that your organization finds the most suitable candidate for the job. Understanding the difference between active and passive recruitment strategies requires you to view the process from your perspective rather than the candidate's.
Utilizing an active search means directly reaching out to candidates, either active or passive, regarding opportunities. In contrast, conducting a passive search means simply placing your open opportunities in places where candidates are likely to see them and then waiting for it to happen. Examples of a passive search would include placing a job posting on your website or a third-party job board.
Let's have a better look at the passive and active candidate strategies.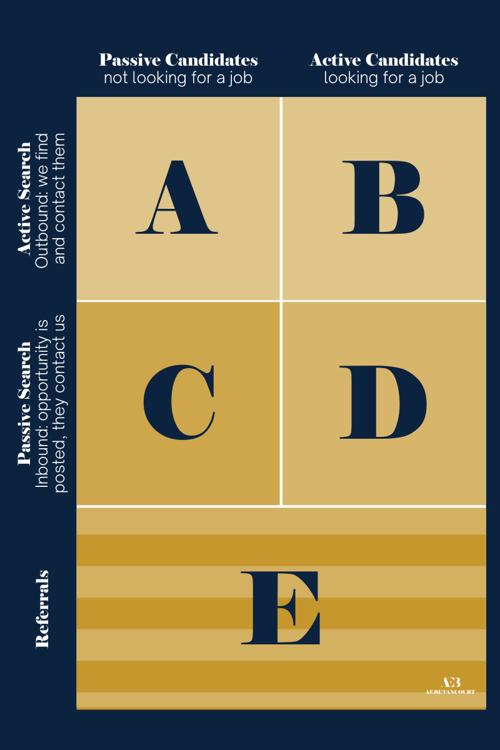 Quadrant A: Active search for Passive candidates through creative Boolean searches on LinkedIn, Google, and other job search websites. Activities defined by this quadrant could include direct outreach to sourced candidates with an intriguing offer and invitation to connect.

Quadrant B: Active search for Active candidates through Boolean searches on Indeed and other websites where these candidates are already searching for new opportunities. Your recruitment strategy for active and passive candidates will be similar, however, the difference lies in how aggressive your search efforts need to be and how accessible these candidates make themselves.

Quadrant C: Passive search for Passive candidates through targeted ads on social pages that direct to landing pages. It is essential to create an interesting post to spark interest among these candidates so that they will want to get in touch with you.

Quadrant D: Passive search for Active candidates through targeted job postings on Indeed and LinkedIn with direct access to the application process that makes it easier for these candidates to apply for the available job vacancies.

Quadrant E: Referrals from current employees and clients to Active and Passive candidates are one of the most effective recruitment strategies for both these candidates. This process makes it easy and rewarding for all parties involved.
Use your time and resources most efficiently by actively searching for both passive and active candidates. However, strategic searches will proactively target passive candidates, passively target active candidates, and maintain an ongoing referral system via your current employees.
Effective Recruitment Strategies for Active and Passive Candidates
There are multiple ways to target both active and passive candidates. Here are some valuable guidelines that can help establish an effective recruitment strategy for your company.
Know the why's
Start by identifying what makes your company and the job position unique. What would compel an individual, particularly a passive candidate to consider your opportunity and initiate a conversation?
Before you post a job or approach a candidate, ensure you know what you find appealing and noteworthy about their background and what you can offer them. Then be prepared to share the value your organization can offer in return and encourage them to consider your opportunity instead of what they have now or that another business can offer.
An Employee Value Proposition can significantly help you in determining what would make an employee join you and stay motivated to work for you.
Define your Perfect-fit candidate
To find the right candidate, you must know how to hire the right candidate. Start by describing the roles and responsibilities of the job. Consider what job titles might be working in this role now or be ready to move into this role, and what credentials they should have, like particular degrees, certifications, or licenses.
Consider the industry those potential candidates might be working in now. Determine what companies they are supporting. Are there related industries or sectors that are potential sources?
Another integral aspect is identifying their network and how they are connected, such as business groups, clubs, and community organizations. This will help you find the right search criteria, advertising target, or referral source to reach them.
Lastly, you need to consider geography. Does physical location matter? Would they have to relocate, and would they be willing to? Or can you offer a remote or hybrid work environment?
Develop a structured hiring and interviewing process
A structured hiring and interviewing process is another factor you need to consider. A structured hiring approach can be highly beneficial as it makes the entire process clearer and smoother. Moreover, a structured interview method helps you identify the what, who, when, why, and how of the process, which is integral because it provides you with the right data:
What: Define what a candidate will be responsible for and need to accomplish with the knowledge and skills they possess.

Who: Determine who will be involved in the interviews and who will make the final hiring decision.

When: Map out a timeframe to determine the overall pace of your hiring process so everyone involved understands how quickly your interviews need to happen so your new hire can begin their onboarding process by your ideal start date.

Why: Structured interviews get results because they provide the most consistent method of evaluating candidates in the least amount of time.

How: Identify your entire hiring process including how many interviews are needed and what format they will be in (phone, video, in-person). Then determine the format of the interviews themselves.
This creates an equitable and consistent interviewing experience for all parties involved.
Develop a working budget
The recruitment budget is also important as it helps you plan for the hiring costs involved and avoid bad hiring decisions that can lead to financial losses. You need to determine whether you would be managing the process in-house or working with a recruitment agency.
Be sure also to consider the compensation and benefits you would be offering and how and where you would advertise to promote the job opportunities.
Know your goals for growth
Another important factor to include in your recruitment strategies is the future goals of your organization. Are you hoping to expand your business and open new departments or locations? This will help you determine how aggressive your recruitment strategies need to be and the pace at which you need to hire.
No matter what your goals are, you need to understand that the time to hire is now. Waiting for a better time will only result in missing out on good talent.
Takeaways for Stronger Recruitment Strategies
Active candidates are seeking new career opportunities and are already applying to posted vacancies, while passive candidates who are not actively looking they may consider a good opportunity when approached. Therefore, your recruitment strategies must focus on recruiting both of these candidates.
Start by creating a bigger candidate pool by targeting both active and passive candidates, resulting in a greater variety of choices and the ability to implement a tighter selection process.

Adjust your focus by identifying which type of candidate (active or passive) you want to target and how actively or passively you need to engage with each of them.

Set your desired qualifications, going beyond just skills and competencies, but what a candidate can do with them. Then define your search parameters such as current positions/titles, possible outside industries to consider, networks and associations candidates may belong to, and any geographic boundaries you have.

Clarify your interview structure to define what it would take to establish a strong process and reach the best candidates.
If you are looking for better ways to establish and enhance your recruitment strategy, our guide to the recruitment process is an excellent place to get started.