Anyone who has been charged with the task of filling an open job position can tell you that identifying and hiring the model candidate is time consuming. In fact, almost 73% of employers experience difficulty finding appropriately skilled candidates, according to Jobbatical.com. Not to mention, there is always the risk of hiring a candidate that isn't the right fit. The US Department of Labor estimates that the price paid for a bad hire is, at minimum, 30% of the employee's first-year earnings. Naturally, many companies choose to use a recruitment agency---a company that, for a fee, specializes in finding employees for other companies in need. But, how do you choose a recruitment agency that is right for you?
Start by defining your questions. Are you looking to fill one or more positions? What is the nature of the position and what skill set would the ideal candidate possess? Is the position permanent or temporary? Is this position entry, mid, or executive level? This initial step is vital because once you've decided which recruitment agency is right for you, you will need to clearly express these needs to them so they can be as efficient as possible in their efforts.
Once you've defined your needs, it's time to choose an agency type:
Staffing Recruitment Agency
Executive Recruitment Agency
General Recruitment Agency
Staffing recruitment agencies are used to fill temporary positions such as seasonal work or covering a leave of absence. Additionally, potential employees like to use staffing firms. Laborworkusa.com found that 49% of staffing employees see staffing firms as a great way to obtain a permanent position. Executive recruiting agencies focus on filling executive-level or highly specific positions. General recruiting agencies specialize in finding candidates for entry to mid-level jobs in a certain field.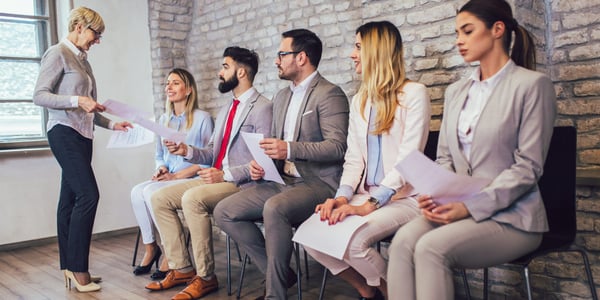 Now that you know which type of agency to use, it's time to get down to brass tacks: how much will this cost? You can find general cost information on most recruitment agency's websites, but you will likely need to contact them in person or by email for further details. It's most common for agencies to charge 15%-25% of the candidates total first-year salary---but the fee may climb upwards of 50% of the candidates total first-year salary to fill executive-level positions. However, some agencies have begun to shift the fee paradigm into a set amount of hours billed to complete the search. This new approach often yields better, faster, results and reduces cost.
Finally, once you've compiled a list of suitable agencies, do your research---it's important to vet a recruitment agency. Visit their website and LinkedIn profile page to gauge their experience and, when talking to them, ask yourself if they demonstrate the experience that they claim. Evaluate the agency in the same manner as you would a candidate for employment. Ask them for references and don't be afraid to ask tough questions.
How long will it take to fill the position?
When was their most recent fill?
What type of resources are committed to finding the candidate?
Are they on your side of the table, or sending candidates to several places to seek the highest commission?
Choosing an agency that is happy to answer your questions to satisfaction builds trust and goes a long way to assure you that you're working with the recruitment agency that is right for your company.