The importance of onboarding:
Due to COVID-19, companies have transitioned to a remote workforce, which also includes transitioning processes to be done remotely such as interviewing, hiring, onboarding, and training. Many of the companies in this transition have not previously had experience with managing a remote workforce, sometimes leaving leaders with questions on how to continue these processes.
The saying, "You never get a second chance to make a first impression", is especially true when hiring. An employee's experience during the first 90 days is typically the determining factor in their decision to stay with your company. According to the Society of HR Management, nearly 1/3 of all new hires quit within the first six months.
The stats below are even more startling:
69% of employees are more likely to stay with a company for three years if they experienced great onboarding
New employees who went through a structured onboarding program were 58% more likely to be with the organization after three years
Organizations with a standard onboarding process experience 50 percent greater new-hire productivity
Source: SHRM - Onboarding
As you can see, a great first impression is paramount and when working remotely it can be more of a challenge; however, with the right pre-boarding and onboarding processes, you have a chance to leave a lasting positive impact on the new hire, building loyalty and engagement in the process.
Virtual Pre-boarding
Pre-boarding (also called pre-onboarding) is the time period from the time that a candidate accepts a job offer to their first day. The goal of pre-boarding is to create excitement around starting with the company, prepare them to be successful in their first weeks, and ensure that they do not feel unprepared to start work.
These steps are crucial when any new employee is starting with your organization; however, it becomes paramount to success when an employee will be joining your team remotely. Remote employees do not have the ability to ask their cube or desk mates the small(er), everyday questions, which could be a barrier to productivity. This could also leave a poor first impression, as the company was ill-prepared and management can seem disorganized.
To aid you in creating a smooth first day for your new hire, we've created a checklist (below) that can serve as a guide to reach the pre-boarding and onboarding goals that you have for your team. Following the download, see below for a bit more detail on each item in the checklist.
Click the image to download: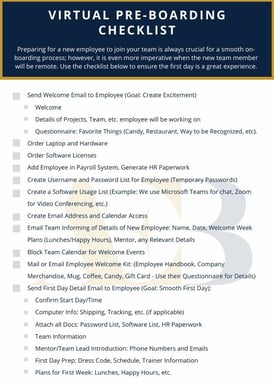 Welcome Email:
The goal of the welcome email to the new employee is to create excitement. This email should be less about process and procedure and more about the team and organizational culture. Ideas to include in this email:
Welcome employee and show appreciation for their choice to join the team

Validate the employee's choice to work for your company, especially amid a stressful and uncertain time

List any details of projects, teams, training events, etc. that could create further excitement about starting work

Employee Questionnaire: a great on-boarding experience is even better when personalized to the employee. Find out some of their favorite things (candy, drink, restaurant, gift card, etc.). Use this knowledge during on-boarding to send either a care package with candy, a restaurant gift card to their favorite place, or anything that relates to the employee and your organization.
Software/Hardware:
Order employee's laptop and any hardware they may need to start the position

Order software licenses and download any apps, software systems, programs that are used in the employee's position or company-wide

Test software and hardware so there are no surprises on the first day
Create Employee Reference Lists:
Username and Password list for each system they'll use, along with the web address of that system (if applicable)

Core tools and apps used throughout the company

Create guidelines around expectations for checking and using apps and email. Example: Slack Messages should be checked as soon as possible, Emails must be answered within 24 hours
Email Your Team:
Let your team know about the new member that will be joining them. Include the person's name, start date, role in the company, relevant background, who will be their Mentor, and Welcome Week plans (lunches or happy hours)

Block the team's calendar for these Welcome Week events so that everyone can join
Welcome Kit:
Create a welcoming experience and make them feel part of the team by mailing the new employee a "Welcome Kit". In this kit you can include items from their questionnaire (see section 1), company merchandise, mug, book, etc.
First Day Preparedness Email:
The employee will feel comfortable heading into their first day at your company with some knowledge of what to expect:
Confirm Start Day/Time
Computer information: shipping, tracking, etc. (if applicable)
Attach all documents: Password List, Software/App List, HR Paperwork
Team Information and Company Organizational Chart
Mentor/Team Lead introduction: phone numbers and emails
First Day Prep: Dress Code, Schedule, Trainer information, Meeting Information
Plans for first week: Lunches, Happy Hours, etc.
Virtual Onboarding
Onboarding is an ongoing process that begins on the employee's first day and generally goes through the first 90 days; however, it can last as long as 12 to 18 months into their tenure. As we mentioned above, a positive onboarding experience leaves a lasting impression on a new hire. When an employee is joining your firm remotely, being purposeful in building connections with managers and teams is even more important.
Below, we've designed a checklist to ensure you are able to create a great onboarding experience for those employees starting with your company while working remotely.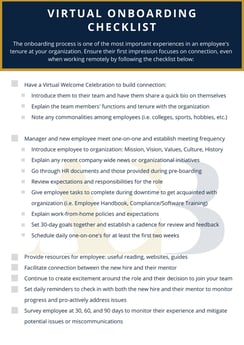 Virtual Welcome Celebration:
Goal: Build Connection with the team

Introduce them to their team and have them share a quick bio on themselves

Explain the team members' functions and tenure with the organization

Note any commonalities among employees (i.e. colleges, sports, hobbies, etc.) to build instant connections and start conversations
One-On-One with Manager:
Introduce employee to organization: Mission, Vision, Values, Culture, History

Explain any recent company wide news or organizational initiatives

Go through HR documents and those provided during pre-boarding

Review expectations and responsibilities for the role

Give employee tasks to complete during downtime to get acquainted with organization (i.e. Employee Handbook, Compliance/Software Training)

Explain work-from-home policies and expectations

Set 30-day goals together and establish a cadence for review and feedback

Schedule daily one-on-one's for at least the first two weeks

Provide resources for employee: useful reading, websites, guides

Facilitate connection between the new hire and their mentor
Ongoing:
Continue to create excitement around the role and their decision to join your team

Set daily reminders to check in with both the new hire and their mentor to monitor progress and pro-actively address issues

Survey employee at 30, 60, and 90 days to monitor their experience and mitigate potential issues or miscommunications
Have you hired any employees virtually yet? Share your experiences in the comments below!