Over the past quarter, much of the news cycles have been on the economy, specifically inflation. However, you can't discuss inflation without also considering the labor market.
While the past quarter has shown signs of changing trends in some key metrics, other indicators continue to behave without any thought or concern. Of course, not all areas of the labor market and economy react at the same time or in the same way.
Keep reading as we review the recent shifts and ongoing trends from the third quarter of this year with some deeper dives into a few specific industry sectors our clients are part of.
U.S. Labor Market Activity
United States Job Growth
The U.S. labor market added more new jobs each month of the third quarter. Gains in the quarter started strong with 526,000 new jobs in July. This was a 32% increase over June and the largest monthly gain since February. However, that level of job creation quickly slowed in the rest of Q3.
August reported 315,000 new jobs, a month-over-month drop of 40%. The pace of job growth slowed again in September with 263,000 new jobs. A decline of 16.5% from August and 50% below July.
The efforts from the Federal Reserve to slow the economy are having some effect but maybe not quite where they would like it as yet. The latest Consumer Price Index report revealed inflation is still at 8.2%. Which likely means another significant interest rate increase next month. That's good news if it slows inflation. The bad news is that the desired results have been slow in coming. It also means higher costs for borrowing, slowing economic growth, and potentially increased challenges in hiring, particularly for candidates who have had the advantage for some time.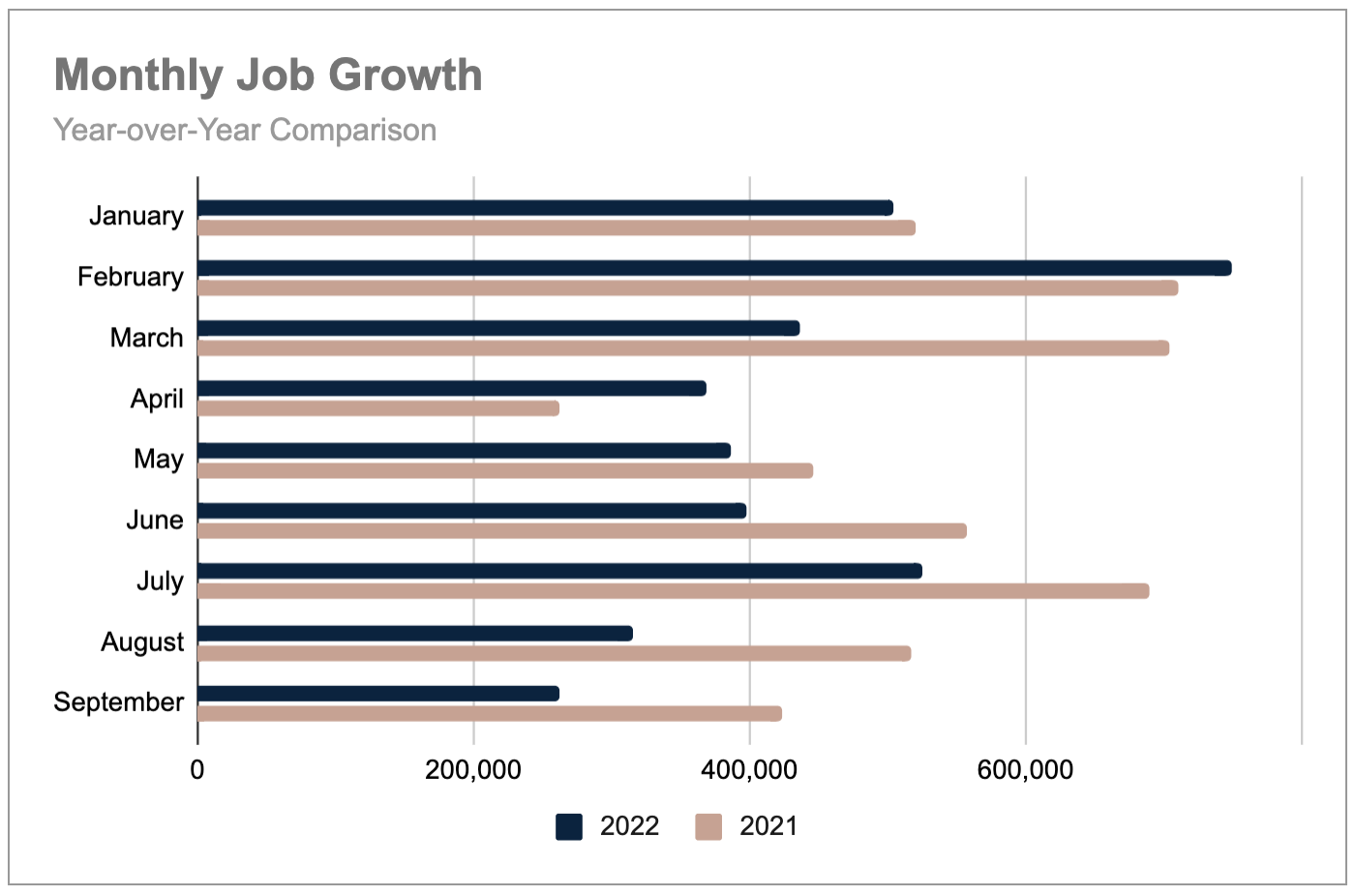 In total, over 1.1 million new jobs were added in Q3. Down just 4% from the second quarter, and behind first quarter gains by 35%. Year-to-date, the U.S. labor market has added over 3.9 million jobs, 18% behind last year's pace of 4.8 million new jobs by the end of September.
On average, the labor market has added 438,000 jobs per month this year compared to a monthly average of 537,000 new jobs last year. The result is a 14-month trend line that continues to steepen its downward pitch while the pace of job growth visibly slows its frenzied pace.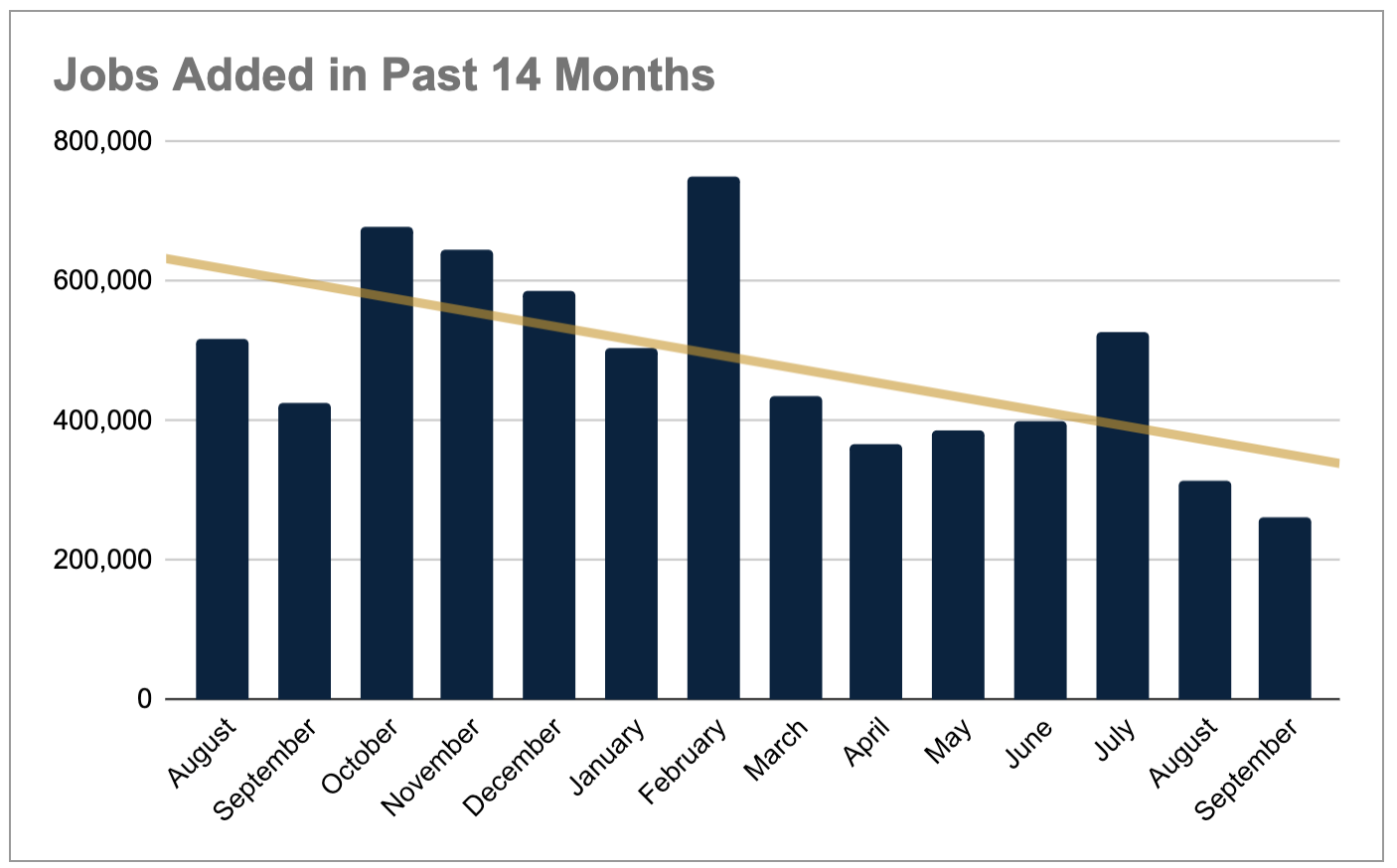 United States Unemployment Rate
The unemployment rate dipped slightly, returning to July's level at 3.5% from the adjusted 3.7% in August, matching the lowest point unemployment has been so far in 2022. Last year, unemployment levels ranged from a low of 3.9% in December to a high of 6.4% in January, with an average across 2021 of 5.4%. So far this year levels have kept within a tight .5% range, keeping the monthly average 30% below 2021 and nearly mimicking 2019 levels. Confirming that one metric has indeed returned to "normal" for longer than just one month.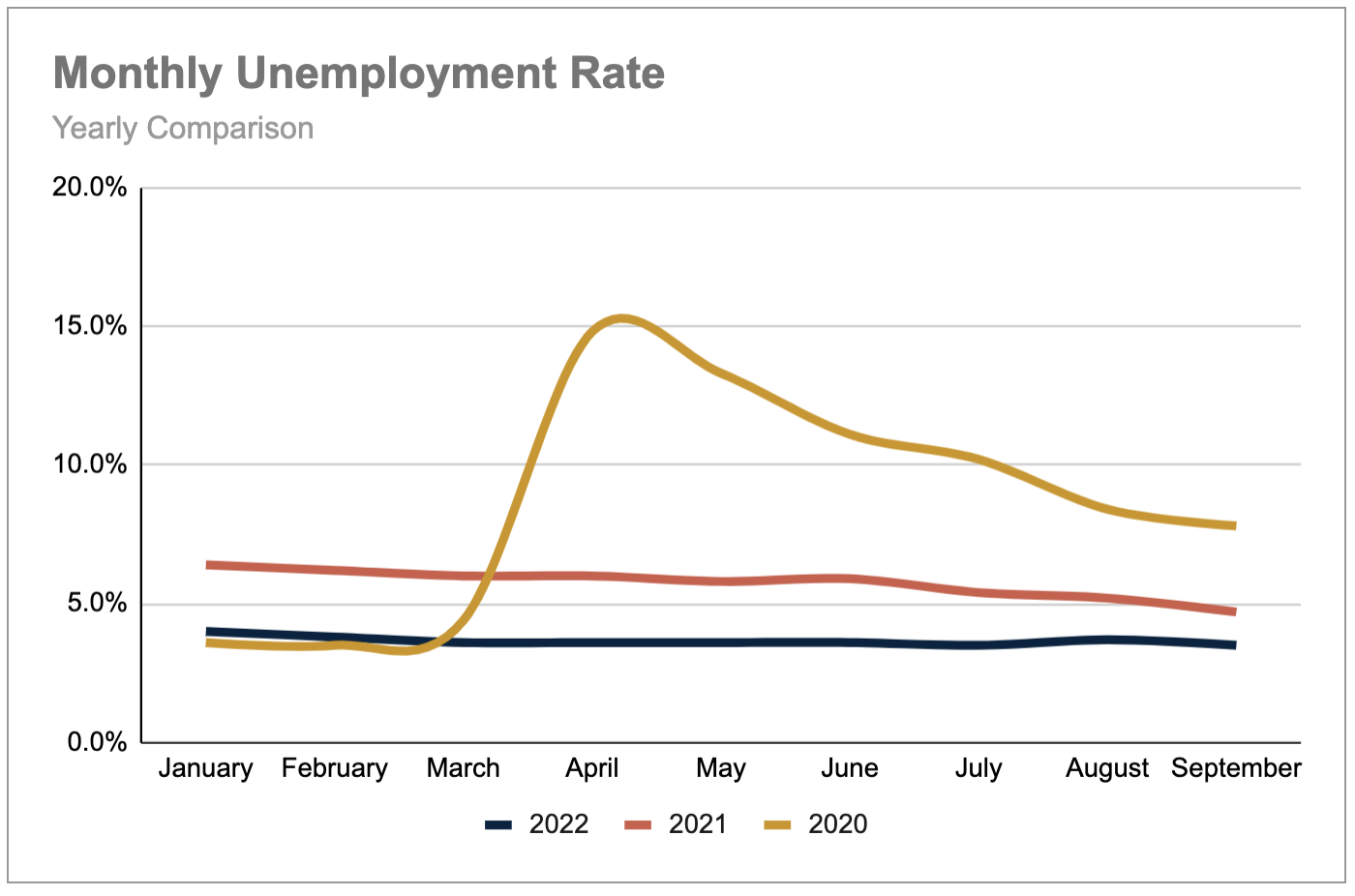 Across the primary industry sectors, Leisure and Hospitality continues to have the highest unemployment levels at 5.9% at the end of September. Nearly 2 points below last year.
Financial Activities and Government Workers remain consistent as industries with the lowest unemployment levels. Year-over-Year rates declined more than a full percentage point in Financial activities from 2.5% to 1.3%. Government roles declined about half as much from 2.4% unemployment to 1.8%
At the end of September, unemployment in Professional and Business Services was at 2.9%, Information was at 3.2%, Education and Health Services was 2.6%, and Construction was 3.4%.
Industry Employment Trends
Year-to-Date Industry Employment Trends
At the end of July, the U.S. Bureau of Labor Statistics reported that total employment (as well as unemployment) levels had officially returned to pre-pandemic levels. Unfortunately, that didn't mean levels were going to remain there.
Hospitality, Education and Health Services, Construction, and Information all started and ended the quarter strong with modest declines in these industries coming in August.
Professional and Business Services and Manufacturing both had job gains each month as well, but at a pace that retreated throughout the quarter. Meanwhile, the Transportation, Retail Trade, and Financial activities industries all declined to the point of job losses in September.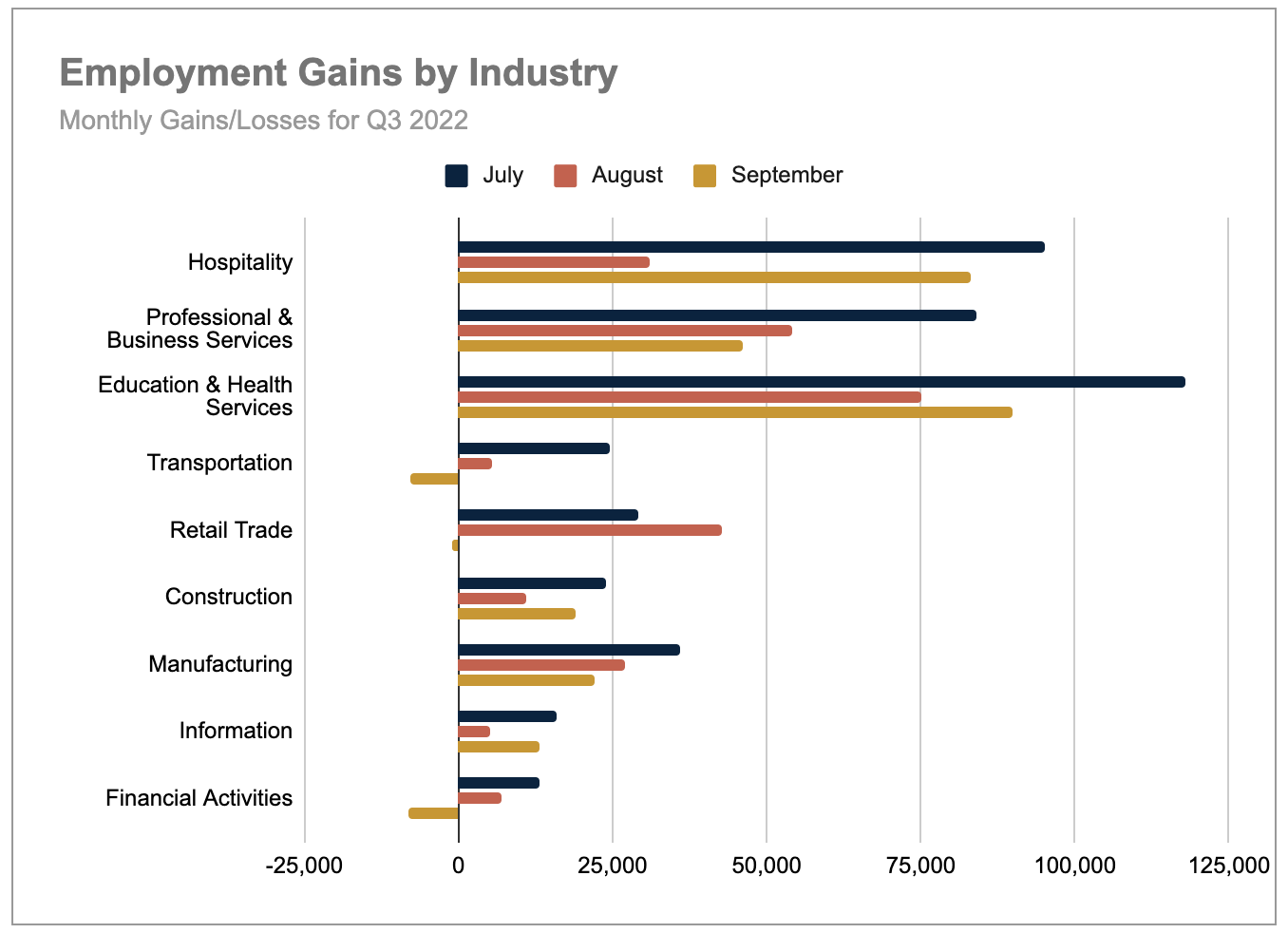 Despite reported monthly job losses in some sectors in the past quarter, quarterly totals reflected cumulative gains for each industry we track.
Both Hospitality and Business and Professional Services have slowed from their impressive first-quarter gains but have remained fairly consistent throughout the middle of 2022. While the Education and Health Services industry is the only section of the U.S. labor market to post increasing numbers of new jobs each quarter this year.
Transportation and Financial Activities have noticeably slowed their momentum from the first half of this year. However, Retail Trade and Construction had solid rebounds from lackluster second-quarter activity.
Meanwhile, Manufacturing and Information continue to face tough economic challenges with Q2 reflecting their strongest quarters of the year so far.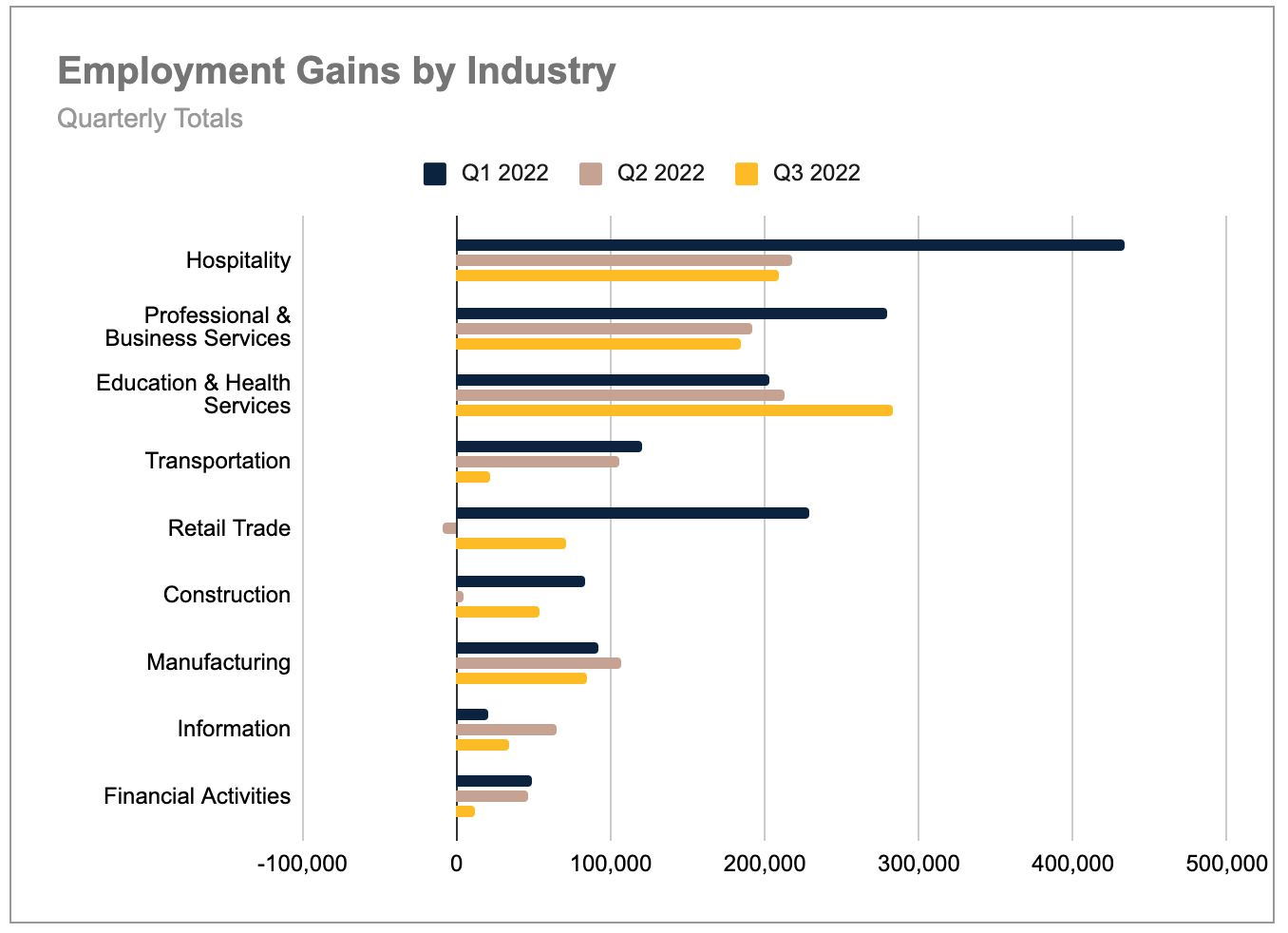 Job Growth in the Business & Professional Services Industry
Business and Professional Services posted job growth similar to the national level with strong gains of 84,000 new jobs in July, almost even with January numbers. August reflected just 54,000 jobs, a decline of nearly 36%, followed by another 15% decrease to 46,000 jobs in September.
In total, the Business and Professional Services industry generated 184,000 jobs in Q3 reflecting a labor market that is indeed slowing. At least in this area. Third-quarter totals were only a modest 4% below the second quarter but 37% less than Q1 of this year and 12% behind Q3 2021.
Year-to-date, this industry has generated more jobs this year than last at 669,000 new jobs in 2022 so far, compared to 494,000 in the first nine months of 2021. This is a gain of 35%. And even with federal efforts to slow inflation, total job gains after the first nine months are only 61,000 less than 2021 totals.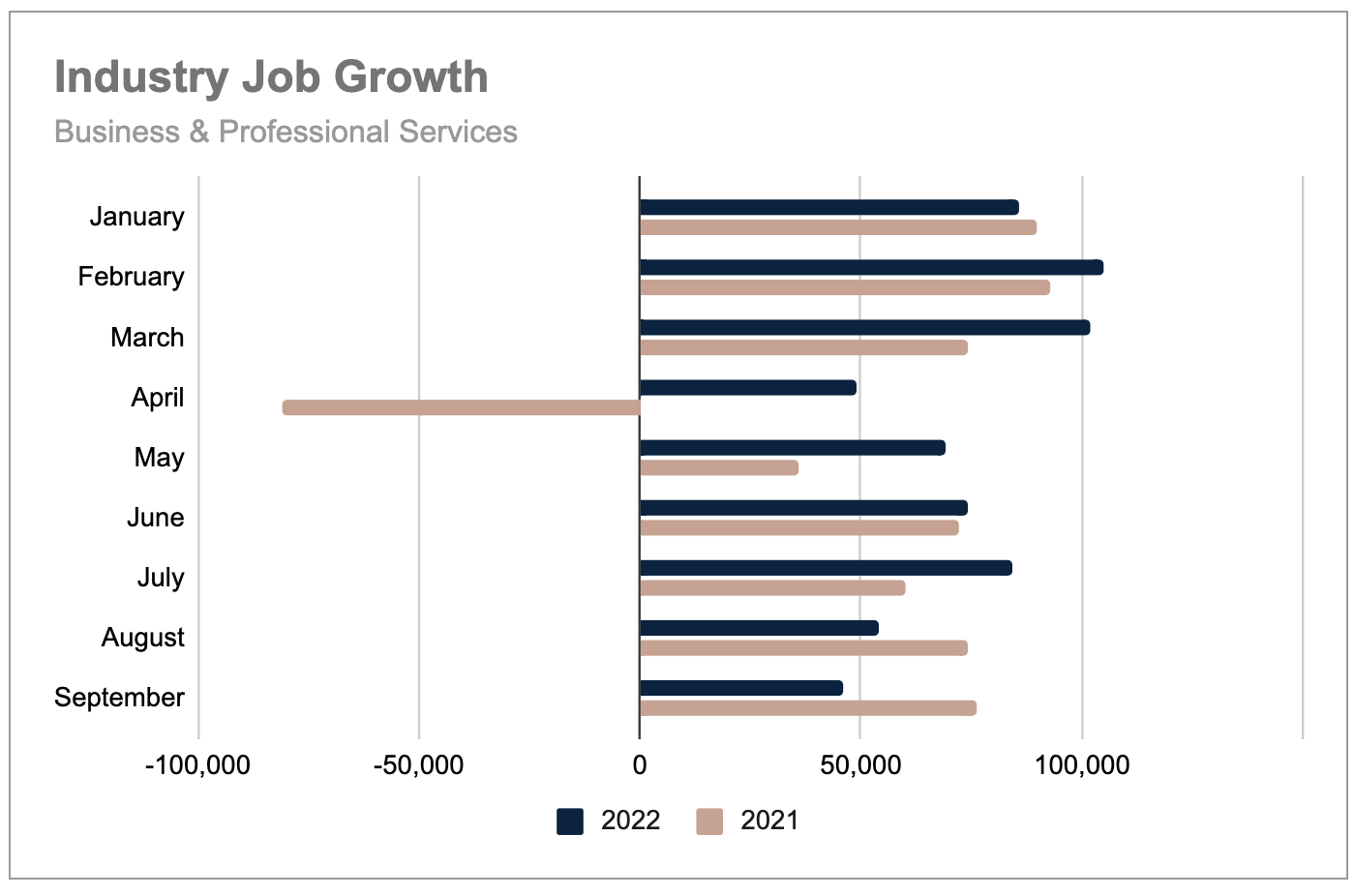 Diving a bit deeper into this industry, Legal Services held the momentum of Q2 gains with 4,300 new jobs in July before posting monthly losses of 8,100 jobs in August and another 5,000 jobs in September. This sector ends the third quarter at a net loss of 8,800 jobs. Year-to-date, the Legal Services sector has only posted a total gain of 2,500 new jobs.
Employment services rebounded from the small dip last quarter with a total gain of 50,300 jobs in Q3. July reported 12,800 new jobs with another 16,400 in August, ending the quarter with 21,100 more jobs in September. This was the second strongest quarter behind Q1 for this sector.
The Enterprise Management sector posted its best job numbers in July with a gain of 13,400 jobs that were nearly cut in half with a loss of 6,100 jobs in August. September results slowed those losses a bit with a modest gain of 3,700 new jobs. For the quarter, the Enterprise Management sector gained 11,000 new jobs, the smallest quarterly gain of this year so far.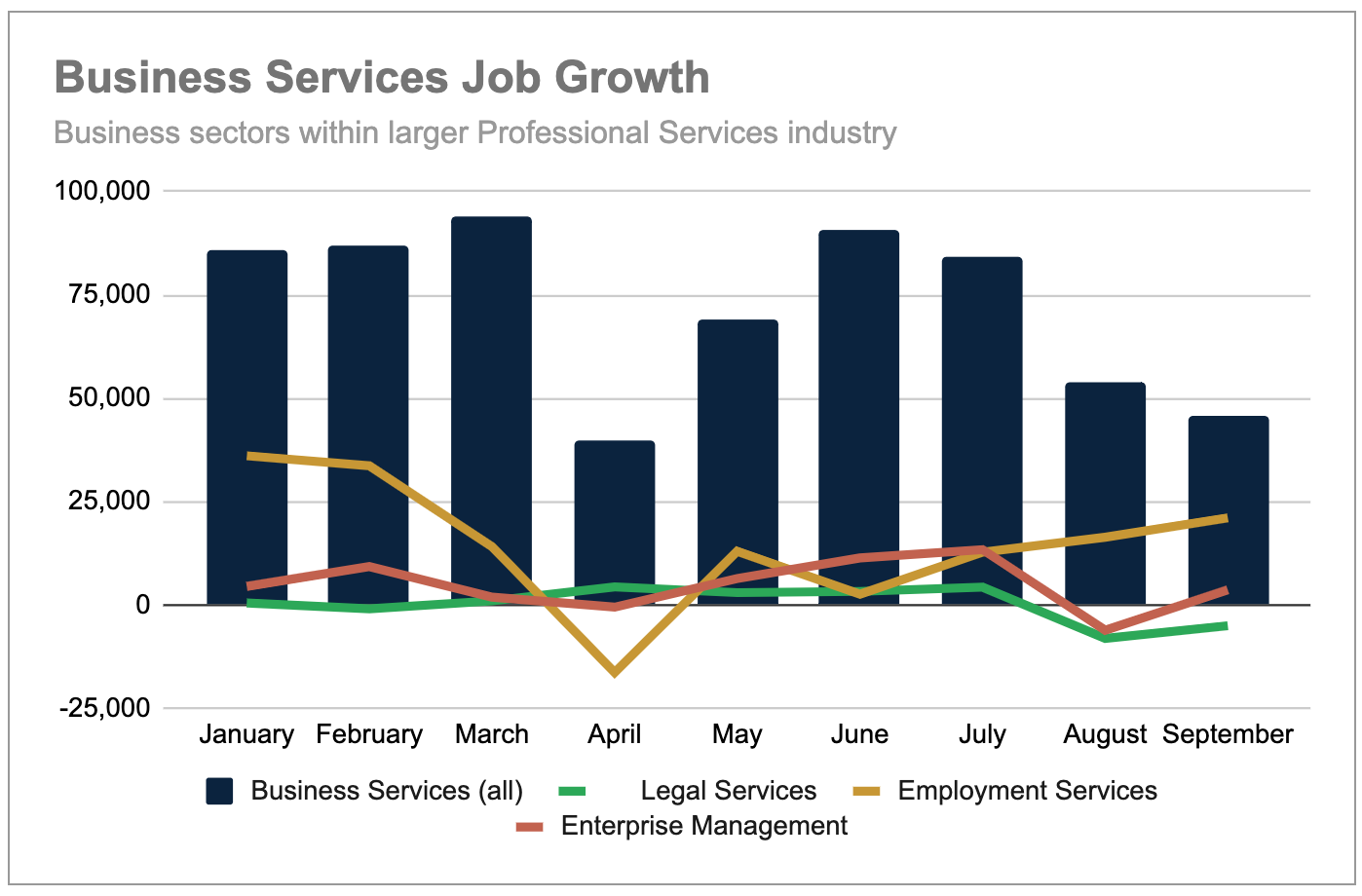 Job Growth in the Finance & Insurance Sector
Job gains in the second quarter for the Finance and Insurance sector (a subset of the Financial Activities industry) came to a screeching halt with a net loss of 300 jobs at the end of Q3.
July posted solid gains of 10,700 followed by much more modest growth of just 2,000 new jobs in August. However, this sector had a loss of 13,000 in September that completely erased the prior two months' gains. This loss is the largest this year by far.
Year-to-date, job growth numbers look much better with a total of 46,000 new jobs, a 369% increase over the previous year which only reported 9,800 new jobs by the end of September, and already stronger gains than all of 2021. Last year, this sector ended with an annual total of 35,700 new jobs with most of the gains coming in Q4.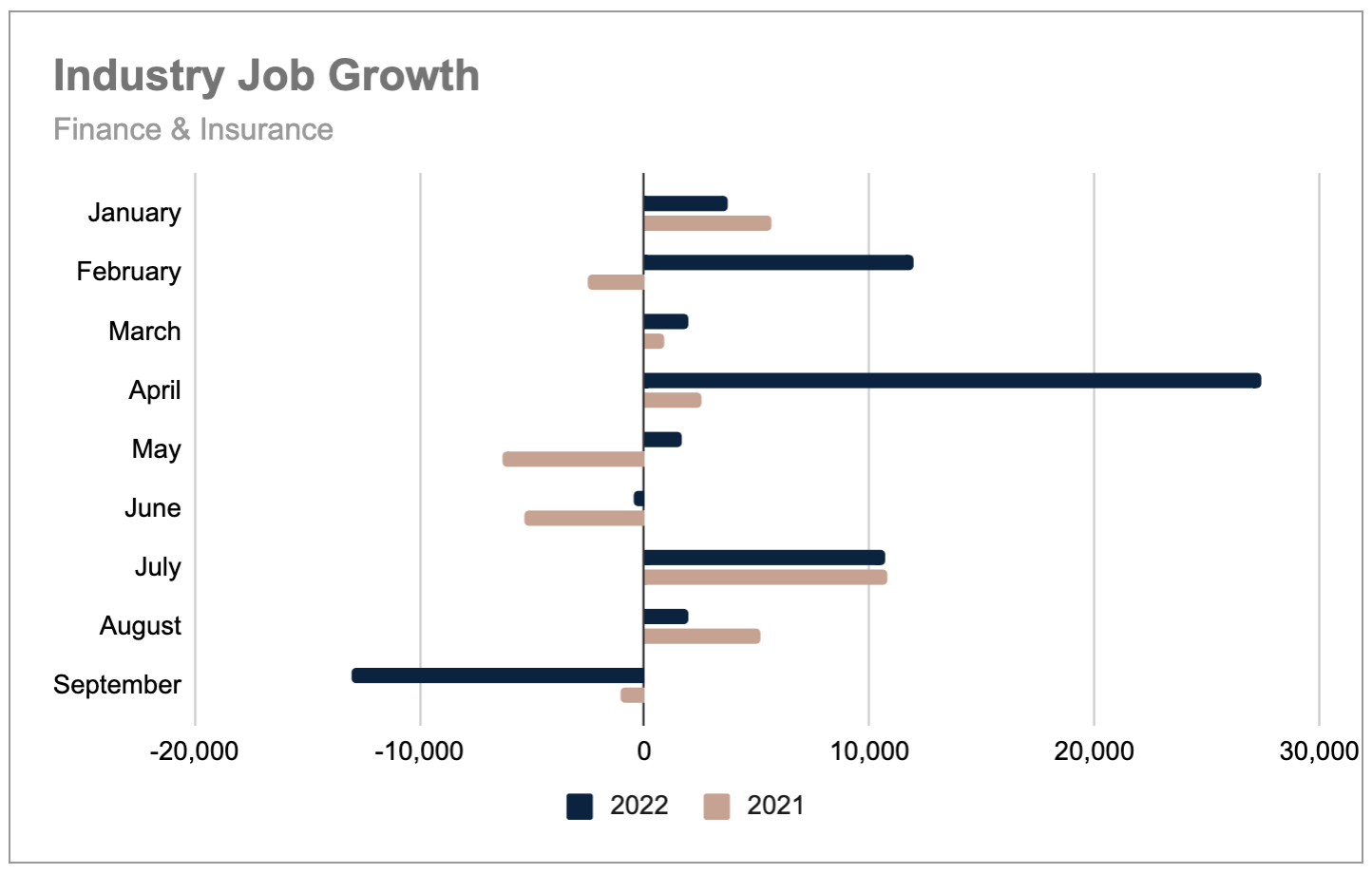 As a whole, the Financial Activities industry gained 13,000 new jobs in July (a 117% increase over June) followed by a gain of 7,000 more jobs in August (up 46%). August revealed a total industry decline, however, with a loss of 8,000 jobs, a drop of 214% for the month.
For the third quarter, a total of 12,000 new jobs were added, about one-quarter of Q2 gains and roughly one-third of Q1 gains. Year-to-date the entire Financial Activities sector has grown by 102,000 new jobs.
Beyond the Finance and Insurance sector, the other area we watch is Insurance Carriers which reported 2,400 new jobs in July and 5,600 more in August. Yet, this sector too posted a loss in September of 9,300 jobs for a quarterly loss of 1,300 positions. Year-to-date the Insurance Carriers sector has added 30,400 more jobs.
This chart compares the Finance & Insurance and Insurance Carriers sectors against the larger Financial Activities Industry.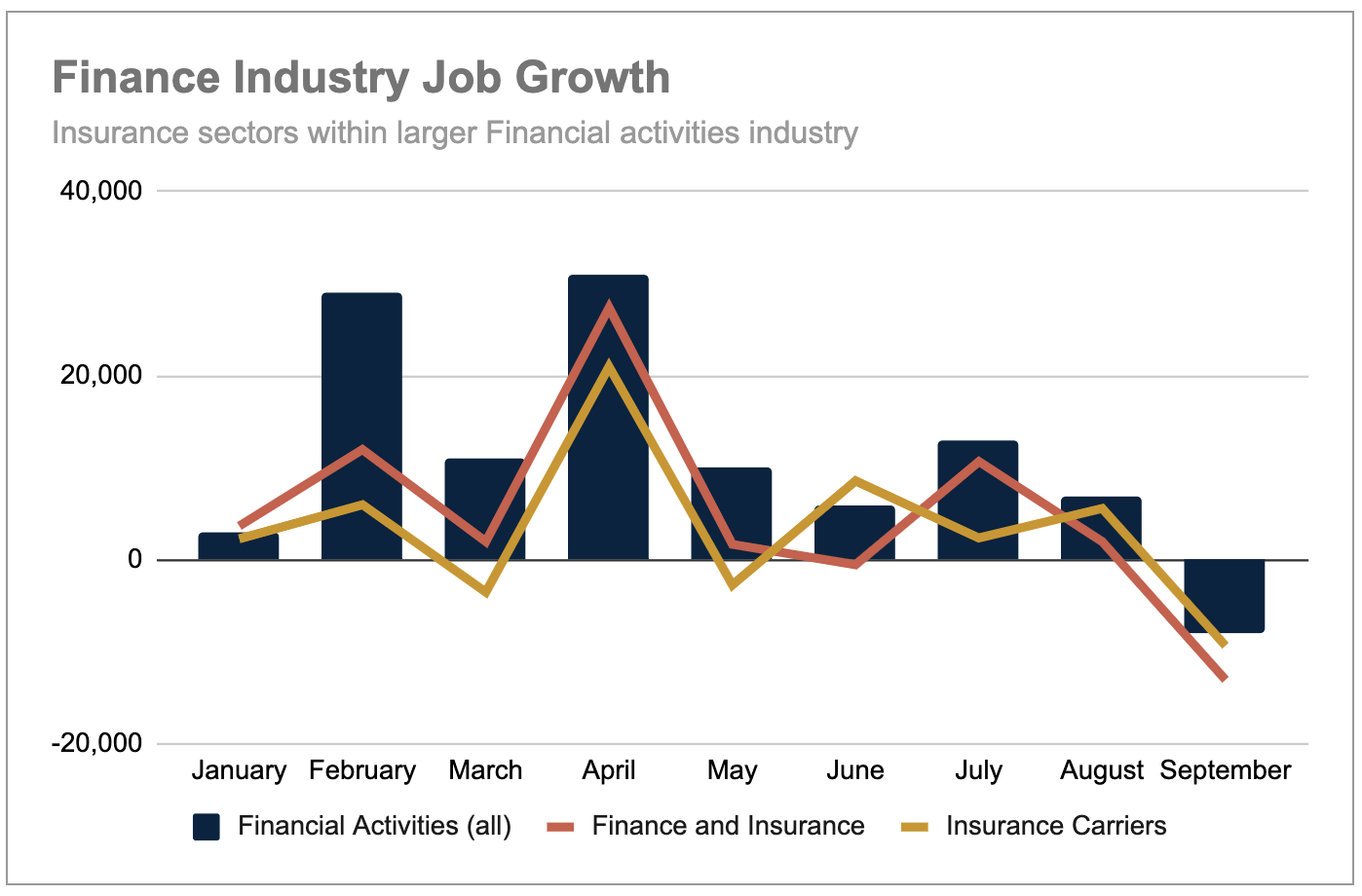 U.S. Hiring Trends
At the end of August, the Bureau of Labor Statistics reported that total job openings had decreased to 10.1 million. This is a decline of 1.2 million jobs (10.6%) since May. In August there were just over 6 million unemployed persons. This equates to roughly 1.7 jobs for every unemployed person which was at nearly 2 jobs back in May.
The number of hires has also slowed, with U.S. companies making over 6.4 million hires in June, slowing to 6.2 million in July and almost 6.3 million in August. This slowing trend has continued since the peak in February at 6.8 million hires.
The participation rate this past quarter has only moved slightly each month, starting at 62.1% in July and ending at 62.3% in September. Still just above last year's participation rate.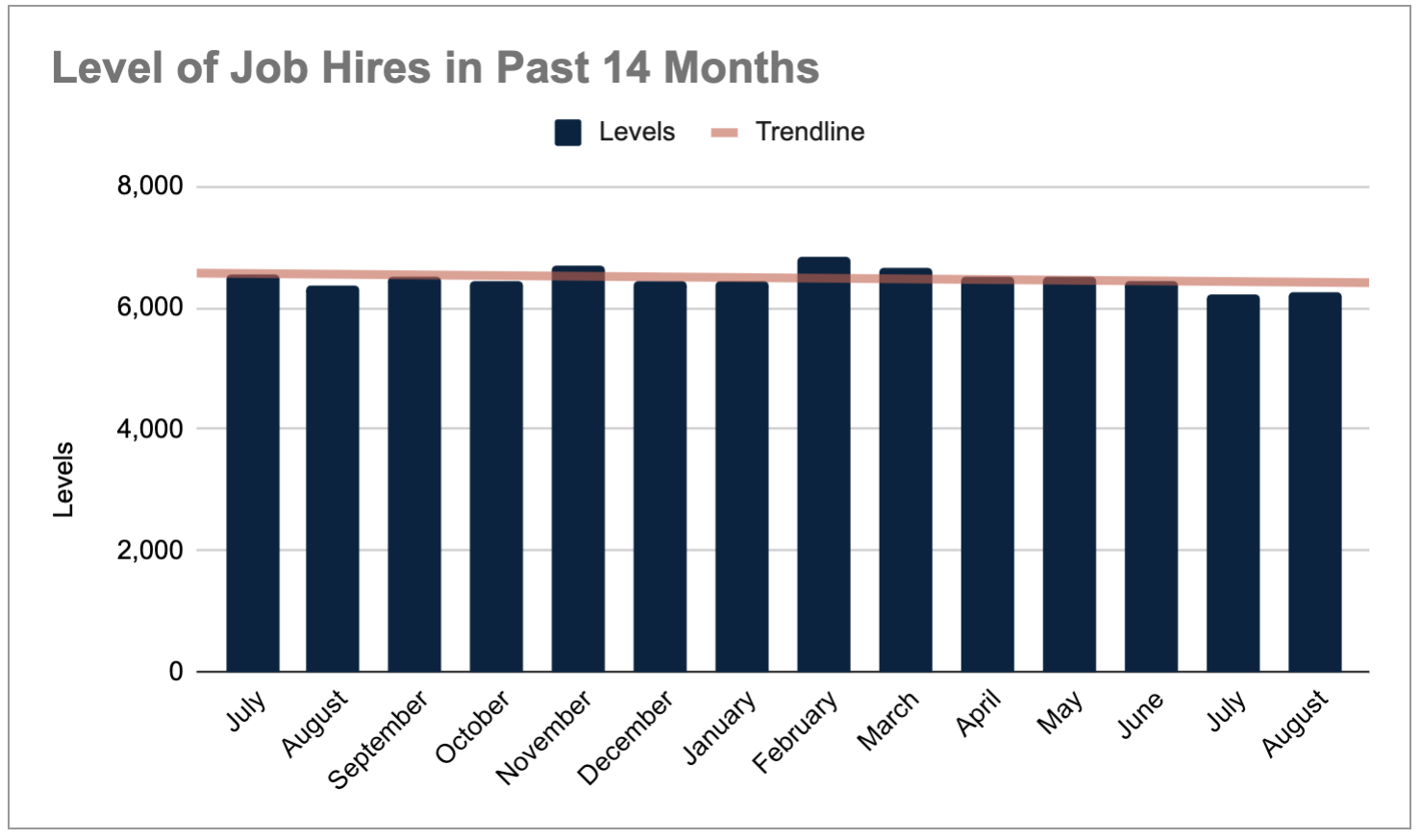 The volume of job hires fell below 2021 levels for the first time this year in July at 6.2 million compared to 6.5 million last year and again in August at 6.3 million versus 6.4 million. However, year-to-date hires in 2022 still outpace 2021 at the end of August by 2.4 million hires (roughly 5%).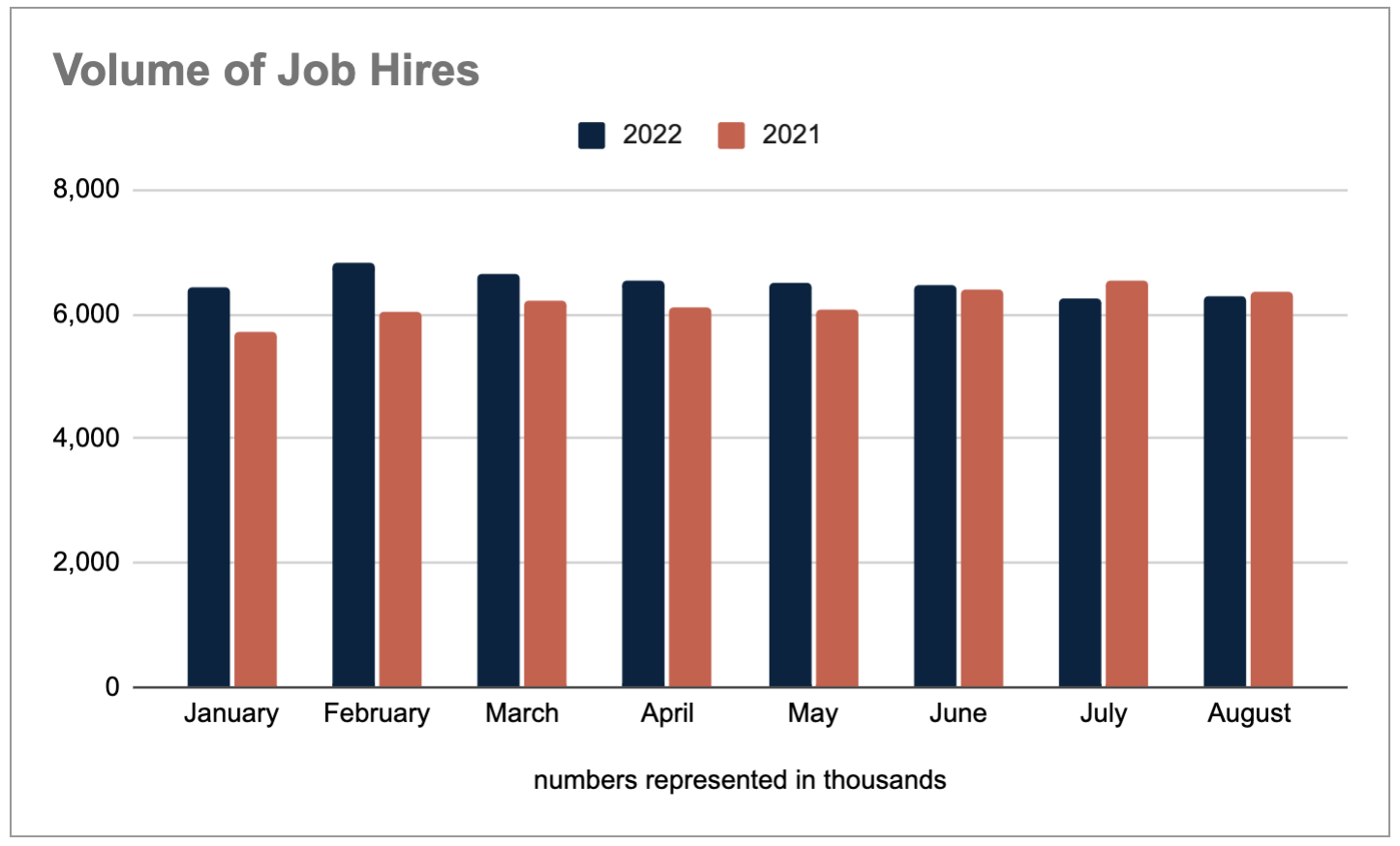 In the Business and Professional Services Industry, the volume of hires has been noticeably slowing each month since the highest level of 1.33 million hires in April down to 1.2 million hires in August — its lowest point of the year so far.
Hires from businesses in the Finance and Insurance industry have fluctuated monthly, in both directions, this year so far. The highest volume of hires also came in April with 188,000 hires, with the lowest in June with just 145,000 hires. August reported 151,000 hires for this industry.
Job Quit Trends
Since a high of 4.4 million quits (2.9% of the U.S. workforce) in March, the level of job quits has slowly been declining to just over 4 million (2.7% of the workforce) in July. However, the quit rate ticked up again in August to 4.2 million workers.
Year-to-date quits in 2022 have remained higher than in the first eight months of 2021. Through August, there have been nearly 34 million quits compared to 30.5 million over the same period last year. This is an 11% year-over-year increase, and 49% above 2020 levels.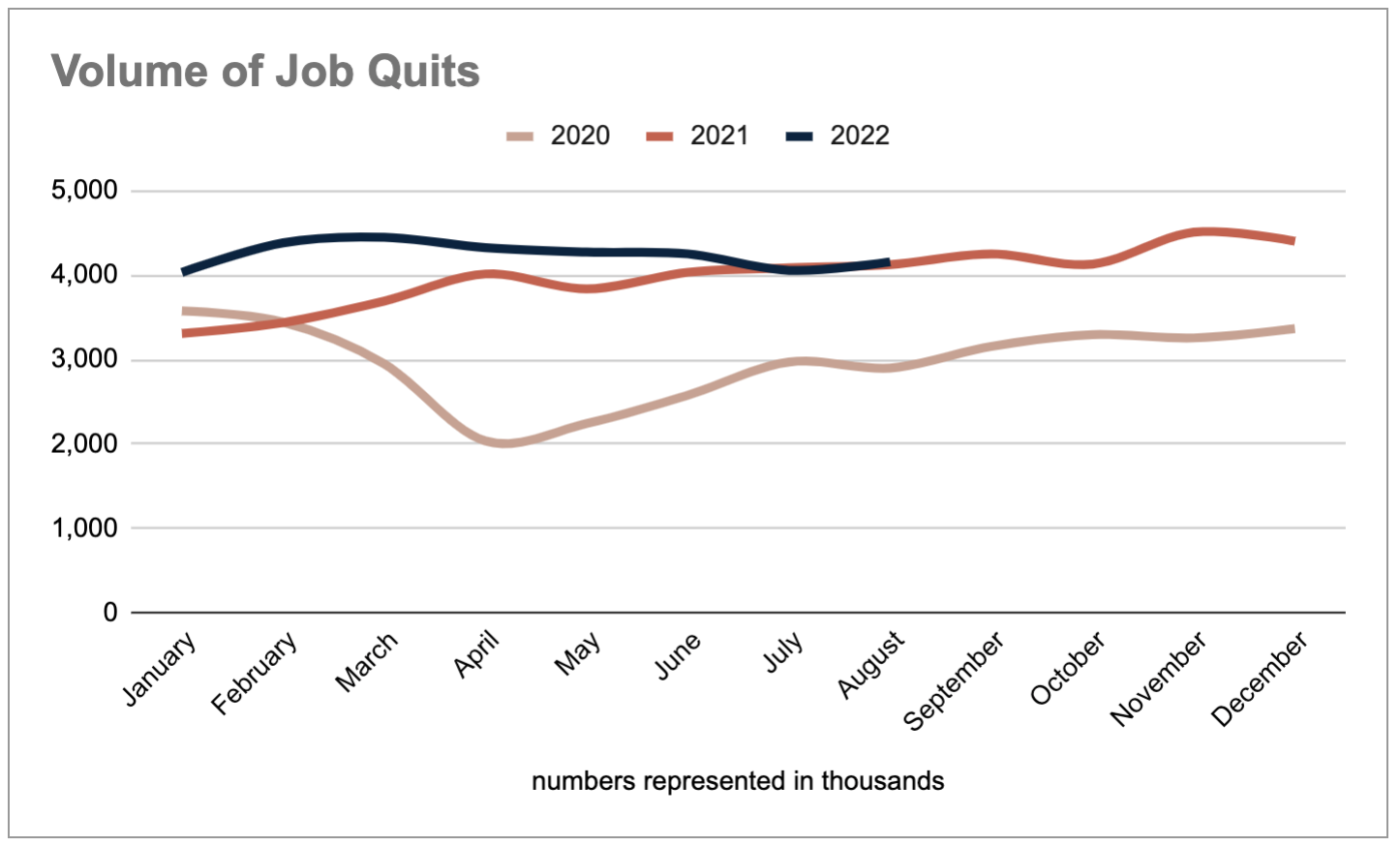 A Final Perspective
New jobs continue to be added to the U.S. Labor Market each month but at a level noticeably less than we perhaps have grown accustomed to seeing. At this point, it's hard to tell if the monthly pace is slowing due to economic influences from the Federal Reserve or simply because businesses are simply returning to where they were pre-pandemic.
The pace of job hires has also just begun to slow. Yet, the historical perspective shows U.S. companies are still making more new hires than they did in the last two years. And the number of monthly quits will likely continue to keep the pace of hiring strong as long as organizations have ongoing business demands to meet. Further, employees will continue to quit as long as there are other opportunities that catch their attention.
For more information about employee engagement and development, download your copy of our Employee Engagement Strategies Guide.